After a long, stressful day at work, your house should be that calming place that helps you unwind, relax and removes all the worries of the outside.
If your home is cluttered and full of garish décor, then you need to seriously reconsider redecorating. Here are a few tips that will help you get started toward a home full of serene and tranquil vibes.
Make it Smell Great
While entering your home, the first thing that teases your senses is the scent. A pleasing scent will make you feel good and set the mood for the rest of the evening.
The scent of freshly-baked bread or cookies would be great as they give you a warm and cozy feeling, however, that cannot always be the case.
You could try scent diffusers; just fill it up with water and a few droplets of your favorite essential oil. There are plenty of options to make your house smell great such as scented wax cubes or scented cleaners.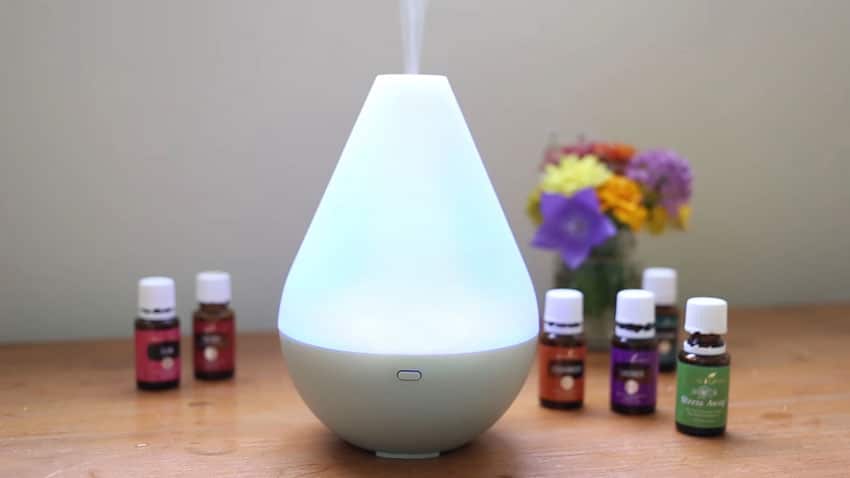 Credit: Oil diffuser zone
Light colors Makes you Feel Lighter
Opt for light colors inside your home as they make even a cramped space feel wide and open, and the colors tend to have a soothing effect.
Dark colors, on the other hand, give a gloomy and somber look to a home, which in turn impacts your mood. If you can't understand why, imagine living in a gothic place.
Go for salmon peach, palladian blue, wool skein, light lavender mist, sprout .06, compatible cream, or an Intense white. Have a look at how these would go with the décor.
Vivid colors akin to candies tend to make the house look gaudy and tacky if they are splashed across all the walls. If you're fond of bright and vivid colors, infuse them in your home accessories such as cushions, couches, throws, lamps, paintings, or rugs.
Do Away With Clutter
A cluttered space, no matter how big, ends up suffocating its dwellers. In a study, respondents whose homes were cluttered or filled with unfinished projects, were more depressed with high-stress levels as compared to respondents who described their home as restful and restorative.
All those newspapers, cards, papers, books, clothes strewn about, need to have a space dedicated to them.
Get shelves and decorative baskets to store all these items. Insert compact drawers and shelves in nooks and crannies so they don't take additional space.
Keep the laundry basket at a place, where you change your clothing. so as to immediately dump them in one place rather than decorating the entire room with dirty clothes.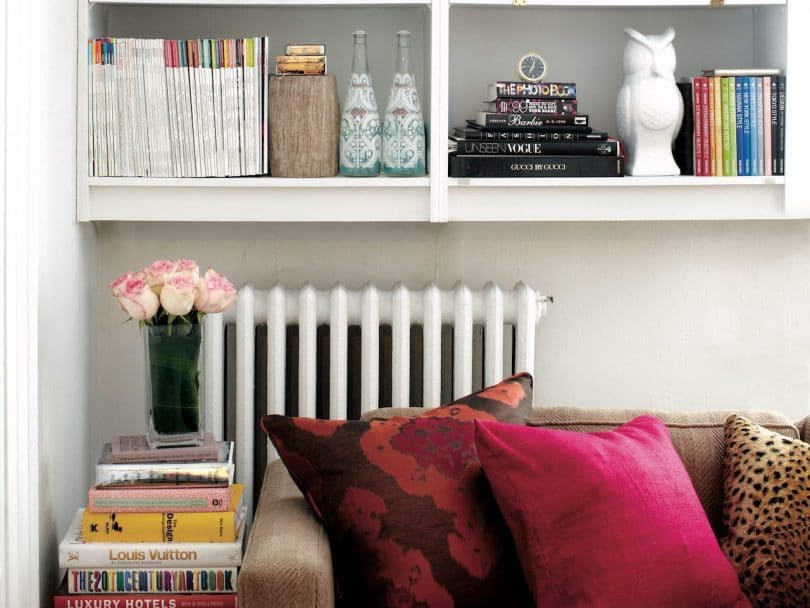 Credits: Chatelain
Comfy seats for a Comfy Evening
Choose your furniture wisely. Keep in mind two things while purchasing: (1) how you can buy less furniture, (2) how comfortable it is.
Don't cram your living space with unnecessary and decorative furniture or at the end of the day, you will have trouble navigating your living room and it will be a nightmare when the guests are coming over.
Opt for comfortable and cozy couches, seats and cushions that do away with all your pain and ache when you recline on it. Complement it with wonderful entertainment provided by Mediacom Xtream and a gigantic bowl of popcorn — a perfect recipe for a fun as well as relaxing evening!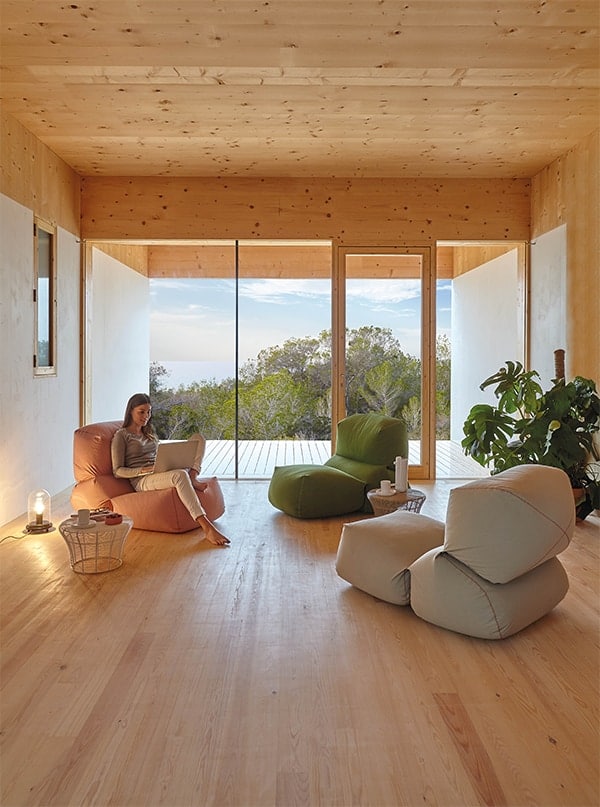 Credit: tilen.space
Be Strategic With Lights
Your space lightened up with bright overhead lights is going to hurt your eyes and head, particularly when your aim is to wind down.
An ideal lighting would be natural light coming in from windows along with fresh air. However, when darkness falls, keep a select few places lighted up where it is required such as the corner where you read with a lamp. You can even utilize dimmers for lights to dim the lights when you don't need them.
Bring Nature In
If you can't frequent the nature outdoors, bring the nature into your home. Nurturing plants does help with improving your mood. Even if you are not into gardening, a few houseplants in places you sit will bring so much positive energy into your place.
Even tiny pots filled with greenery on your side table or any other table will be great and if you are reluctant to do just that, hang nature-filled landscape pictures on your walls.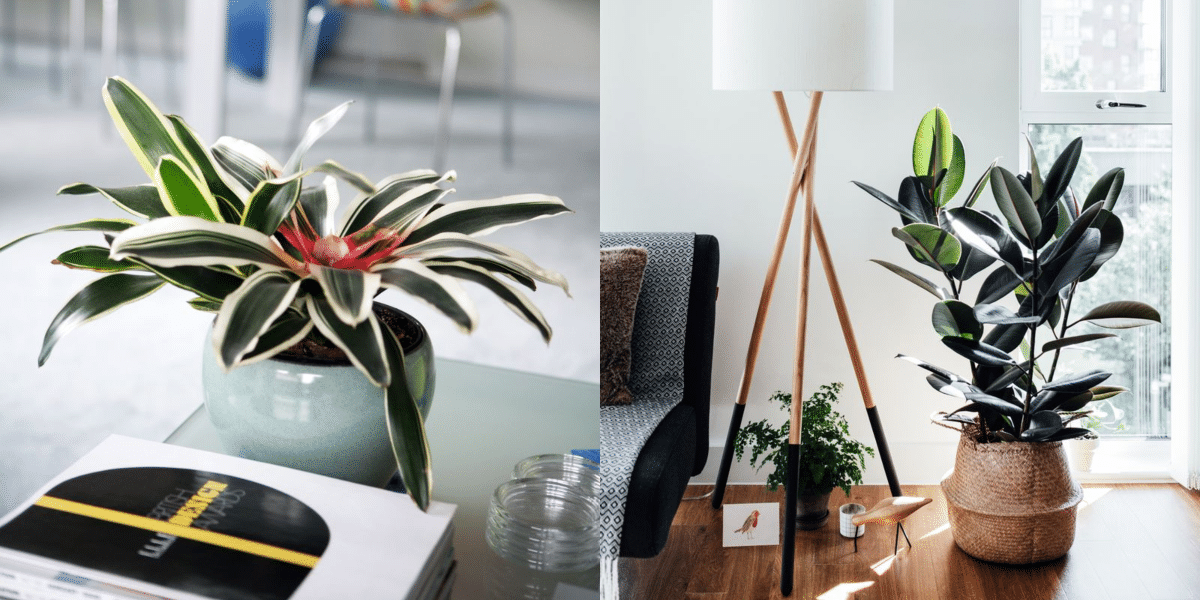 Credit: House beautiful
Imbue your dreams in Your Home
A home is a place filled with dreams. So instill your dreams and fantasies in your home décor to remind you that you have the ability to dream and have the capability to fulfill those dreams.
If you aim to be a designer, fill your home with your designs in photo frames and furniture. If you have a particular favorite character such as Pikachu since childhood, make sure you have photos or a stuffed toy of Pikachu.
Decorate your home with your achievements, awards, and trophies so that when you are feeling low, these will be there to remind you that you have achieved so much in life.
Wrapping Up
Along with these tips, make sure to experiment and bring in your flavor into the décor, and enjoy a comfortable and stress-free time at home.…